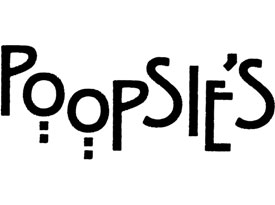 Poopsie's is a fun and unique shop located in the downtown of Galena, Illinois. This shop was opened twenty years ago and currently resides in the southern part of Main Street near the flood gates. This store has many fun, crazy, and beyond the ordinary gifts, games, and accessories. They even have some nice jewelry that will grab your attention!
I was able to meet with some people that work at Poopsie's and the owner of the shop. This shop has great customer service and everyone was very helpful. People will leave this store with a smile on their face because of the customer service and the lovely stuff they purchased from Poopsie's.
As I mentioned before, Poopsie's has some great, beyond the ordinary products. This is a great place to find entertaining board games, crazy puzzles, fun toys, nice jewelry, and even some wacky accessories. Don't miss out on the double-sided Mac & Cheese Puzzles, Bacon Bandages, holiday themed products, crazy light-up hats. While you're here, check out some of Poopsie's favorite products; stick furniture and Vinderpants for your wine bottles. Poopsie's has lots of great specials throughout the year. On Friday, November 2nd, Poopsie's has a holiday open house which has specials, free giftwrapping, tasty snacks, and fun prizes. Every year, Poopsie's has a clearance sale during the week after Christmas!
Poopsie's is very handicap accessible and handicap friendly. This shop is all on same ground floor and there are no steps to enter or exit the store. Poopsie's uses appliances that are energy efficient. This store is open through the entire week and they're only closed during Thanksgiving, Christmas, and Easter. Their specific hours are 10:00 am to 6:00 pm from Sunday to Thursday and 9:30 am to 8:00 pm on Friday and Saturday.
You can find even more information on Poopsie's by visiting their website. Don't forget to check out their Facebook page too!