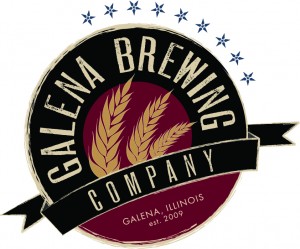 Established in 2009, the Galena Brewing Company [GBC] is a great place to sit down, have a drink, and meet up with family and friends. You can even buy food, watch TV, and watch bands play. This bar is located in Galena, Illinois in what is surely becoming the Uptown Entertainment District! GBC has wonderful staff working there, and the atmosphere of this bar is energetic and friendly.
I had a chance to meet the owner, some of the brewers, and my cousin that works there! I've enjoyed their brats, sandwiches, and giant pretzels. This tavern is decorated very nicely, and it's cool to see the brewing room behind the counter. Daily tours are available.
Galena Brewing Company has a very wide variety of beer, wine, appetizers, entrees, sides, and desserts, so take your pick! They also have food and desserts for special events, such as Irish and German food. This bar even has seasonal beers throughout the year. Some of their daily specials include 20% off chicken wings on Mondays, buy one get one free Beef Sliders on Tuesdays, $3.00 tapas and pints for all taps on Wednesday, and 20% off pulled pork and $8.00 GBC Growler refills on Thursdays. GBC also offers $3.00 pints for all taps during Football Sundays!
This bar is very handicap accessible; they have closed captions on their TVs, everything is on the ground floor, and the front doors are also on the ground level with no steps. GBC also has to-go containers that are recyclable.
This bar's open hours of business are 4:00 pm to 11:00 pm Monday through Thursday and 11:00 am to 11:00 pm on Friday, Saturday, Sunday, and during the holidays.
Check out the GBC's website, Facebook page, and Twitter page!
The Galena Brewing Company Website